Expected on September 7, 2022 at Vinpearl Hotel Can Tho (No. 209, 30/4 Street, Can Tho City), the Embassy and Consulate General of the Kingdom of the Netherlands in Vietnam will hold a Business Forum. Vietnam – Netherlands 2022 with the theme "Sustainable Fisheries Development Trade".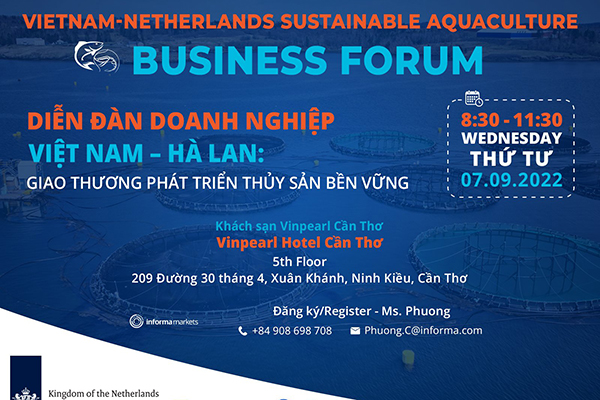 With the goal of creating a business forum to promote and connect trade in investment, science and technology transfer, production and sustainable trade for Vietnam's aquaculture industry; To strengthen the promotion of images and brands as well as raise current hot issues in the seafood industry, the Embassy and Consulate General of the Kingdom of the Netherlands in Vietnam decided to coordinate with the Trade Federation and Vietnam Industry (VCCI) – Can Tho Branch, Vietnam Clean and Sustainable Shrimp Alliance (VSSA), Vietnam Pangasius Association (VINAPA) and Sustainable Trade Initiative (IDH) to organize Vietnam – Netherlands Business Forum 2022, theme: "Sustainable Development of Fisheries Trade".
Attending the forum on the Vietnamese side were representatives of leaders of the Ministry of Agriculture and Rural Development; representatives of leaders and local businesses in the Mekong Delta and Ho Chi Minh City. The Dutch side has an inter-ministerial delegation of the Dutch Government, a delegation of Dutch seafood enterprises, representatives of the Embassy and Consulate General of the Kingdom of the Netherlands in Vietnam, foreign business associations and enterprises. member profession.
The purpose of the Trade Forum is to raise new trends, challenges and practical concerns for leading Dutch experts to listen, care and share new solutions, technologies and techniques. to support Vietnamese enterprises and aquaculture farms in the process of international integration, improve the output/quality of Vietnam's seafood exports as well as enhance competitiveness to a new level. in the international arena, contributing to promoting trade connections, technology exchange and transfer, financial support as well as production and business cooperation between Vietnam and the Netherlands.
Within the framework of the event, the Embassy and Consulate General of the Kingdom of the Netherlands in Vietnam also organized a connection between Vietnamese and Dutch businesses. As planned, this forum will be held with the cooperation of Below is a list of 07 Dutch enterprises:
1. REXIL ASIA
About the company: For more than 20 years, Rexil has been a leader in effective new products for humans, animals and plants. Rexil develops biostimulants for plants, animals and humans. Humans, animals, fish and plants greatly benefit from these revolutionary new 'patented' biostimulants. Rexil Asia's products are safe and environmentally friendly and have been proven effective in all types of international research published scientific articles.
Website: https://rexil-asia.com/
Products & Services: ReXil Agro BV specializes in biostimulants for 'sustainable' farming methods. The company has developed a range of silicic acid-based biostimulants that support the organic growth of plants and animals. This leads to higher yields with better quality. With proven results in tests worldwide, our products contribute to higher yields, better quality, more flavor and longer shelf life.
Serving in the fields of: agriculture, horticulture, aquaculture, animal husbandry and forestry.
Business people want to meet: individual farmers to large multinational companies and government agencies.
2. AGRITERRA VIETNAM
Back to comity:Agriterra is an agricultural agency founded in 1997 by the Dutch agricultural industry. Agriterra's mission is to strengthen farmers' organizations around the world. We believe that agriculture is the key to poverty alleviation in poor rural areas. The World Bank's 2008 report on Agriculture for Development clearly states that growth in agriculture is on average at least twice as effective in reducing poverty as growth outside of agriculture. Agriterra firmly believes that strengthening farmer organizations is a necessary condition for development. This is the experience of the Netherlands and many other countries over the past two centuries. Agriterra takes a holistic approach to collaborative development and uses a structured approach based on a proven methodology.
Website: https://www.agriterra.org/
Products & Services: Business development cooperation (training & consulting) and market linkage. We provide expert advice to farmer organizations and cooperatives worldwide and strengthen them to fight hunger and poverty. We also associate them with businesses (Netherlands). Agriterra is the only organization in the world to strengthen co-operatives using collaborative expertise and peer-to-peer consulting.
Objects businesses want to meet: Cooperative organizations, Government organizations need support and advice against poverty.
3. SIGNIFY VIETNAM
About the company: Signify is a global leader in professional, residential and lighting systems for Internet of Things technology. Our energy-efficient lighting products, systems and services enable customers to enjoy superior light quality, safer and more comfortable lives for residents, and high productivity. for businesses and a better living environment for the city.
Website: https://www.signify.com/vi-vn
Products & Services: Our aquaculture lighting system combined with its control systems was created to help further boost shrimp production. The main challenge for agriculture is to mimic nature in a fully controlled environment. Philips lights provide artificial light, targeting shrimp's photoreceptors with a blue and green spectrum, avoiding darkness, flicker or other stress-generating factors. Philips luminaires are extremely durable through the finest marine alloy constructions. The product requires minimal or no hardware maintenance. Maintenance and software upgrades are also performed remotely.
Serving in the field: Fisheries, agriculture
Objects businesses want to meet: Enterprises, farmers, Fishery cooperatives (shrimp and fish)
4. SKRETTING VIETNAM
About the company: Skretting is the world leader in high quality aqua feed – an essential link in the food production chain. We apply our knowledge of the composition and nutritional needs of aquatic species to create breakthrough products with optimal nutritional value, sustainable production and high economic efficiency, directed towards the goal of fulfilling its mission of 'Feeding the Future'. Our 2019 aquafeed production resulted in 21.5 million delicious, nutritious seafood meals for consumers worldwide.
Website: https://www.skretting.com/vi-VN/
Products & Services: Complete range of feed for shrimp and fish species * water treatment products * farming process and technical services in precision farming https://www.skretting.com/en-us /San-pham-va-dich-vu/
Serving in the field: Seafood
Who you want to meet: Businesses, farmers, Fishery (shrimp and fish) cooperatives, suppliers, distributors or new business/research partners
5. FRESH STUDIO INNOVATIONS ASIA
About the company: Fresh Studio provides aquaculture consulting jobs including; market research, quality inspection and audit, product testing, R&D testing, training services, product sourcing and organizing field visits, holding meetings with suppliers suppliers and customers.
Website: https://www.freshstudio.vn/
Products & Services: Fresh Studio is a consultant and provider of consulting services in the aquaculture and agriculture industries.
Serving in: Aquaculture production, water treatment, market survey and research, product testing, R&D testing, audit and quality control.
Who you want to meet: Aquaculture equipment suppliers to industry, Aquaculture equipment and water treatment equipment manufacturers, Organizations that need advice to start projects projects in the region aimed at developing sustainable aquaculture production, improving technology and providing training in the field
6. Witteveen+Bos Consulting Engineers BV
About the company: Witteveen + Bos is an experienced and trusted partner to help improve the aquaculture sector through wastewater treatment and RAS. RAS is highly scalable and cost-effective, while helping to transform this industry and become more sustainable.
We have expertise in feasibility studies and design of recirculating aquaculture systems. We have extensive knowledge and experience in the design and engineering of: Wastewater treatment plants for complex and highly concentrated wastewater; Waste water recycling; Post-treatment of wastewater to remove micro-pollutants such as drugs.
Website: https://www.witteveenbos.com/nl/
Products & Services: Witteveen + Bos is a technical consulting company. Our main services are: Feasibility study; Design and engineering; Support and optimize water/wastewater treatment operations
Serving in the following fields: Manufacturing industries that discharge wastewater with high concentrations of pollution: Seafood processing; Food & Beverage; Paper and pulp; Chemicals and petrochemicals; Industry zones
Objects businesses want to meet: Seafood processing, Food and beverage
7. Wageningen University & Research (WUR)
About the company: Wageningen University & Research Center is a partnership between Wageningen University and Wageningen Research Foundation. That is the mission of Wageningen University and Research Center. WUR has more than 7,200 employees, 13,200 students and more than 150,000 WUR Life Long Learning program participants from over a hundred countries working everywhere in the world in healthy food and living environments for communities. government and the business community at large. The strength of Wageningen University & Research Center lies in its ability to join forces with specialized research institutes and universities. It is also within the combined efforts of different fields of natural and social sciences.
Website: https://www.wur.nl/en/about-wur.htm
Services: Contract research, examples of improving the shelf life of agricultural, floral or food products, technical research on your product's application in nutritious food, agrotechnology precision, smart irrigation, water management, etc. Consulting, for example advising companies on international market developments in agricultural and food products. Capacity building, such as specialist training courses for professionals in high-tech agriculture, horticulture and aquaculture.
Who you want to meet: Shrimp/ Prawn or Seaweed Institute or School / Cooperative – Shrimp, seaweed or school cooperative